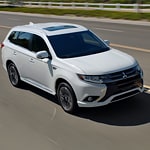 If you ever wondered if you would know how to use your spare tire if you ever had to, you're not alone. A lot of people have a spare tire, but they don't even know which kind they have. At Cutter Mitsubishi-Aiea, we would never want you to be stranded after a tire blowout without the knowledge to fix it properly. That's why we would like to help you acclimate yourself to some of the different types of spare tires that you might have.
A full-size spare tire is a great option if you want to rotate it in with your other four tires because it's literally the exact same brand and type of tire that you have on all four wheels. If you run into a situation in which you need to put on your spare tire, you'll appreciate that you don't need to rush to I mechanic right away.
On the other hand you might have a compact temporary spare tire. This tire is smaller, so it fits in your trunk more easily. But you'll need to get to a mechanic right away.