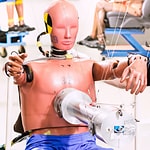 Vehicle safety ratings can be confusing. Is a car safe if it scores high in frontal collision tests but doesn't have as many driver assistance features? What do the crash test scores mean? There are two organizations responsible for testing vehicles for safety. This includes the National Highway Traffic Safety Administration and the Insurance Institute for Highway Safety.
NHTSA provides ratings from 1 to 5 stars that tell you how well a car performed in different crash tests. If a vehicle scores a 5 in a crash test, that means that it protected the occupants and stabilized after the crash. If cars perform poorly, such as below a 4-star, then that vehicle probably won't stand up in a crash. The IIHS is similar but rates vehicles from poor to good, as well as measures safety features, such as driver assistance technology.
Whether you're looking for a safer vehicle for work or your family, you can find all of the latest cars at Cutter Mitsubishi-Aiea centrally located in Aiea, HI. Schedule your test drive online today.